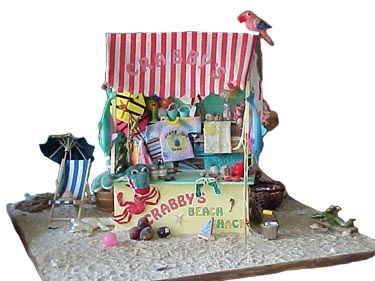 Crabby's Beach Shack
An odd kit for a produce stand became Crabby's,
your beachside supplier of beach items, gifts and souvenirs.
The base is covered with real sand, made firm with Scenic Cement.

The crab on the front is real too, just painted
On top of the large stuffed alligator are crab claws painted to look like alligator heads. They come in many sizes!

Whether you need a beach towel, t-shirt, flip-flops or a mat,
Crabby's has it!

You can even get a cold drink from the ancient dispenser.