French Quarter Dependency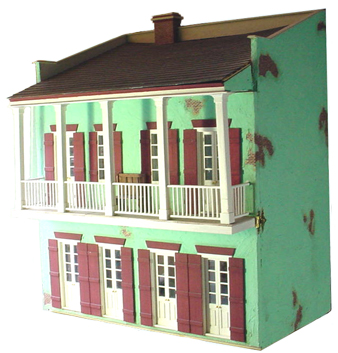 A dependency building in New Orleans' French Quarter could serve several purposes. It usually held the kitchen and related rooms in case of fire and to keep the cooking heat out of the house in summer. Upper rooms could have been used by servants, but a teenaged boy or young adult man could also have had his room there, thereby being able to come and go as he wished, without his parents knowing.

I chose to have a kitchen and larder on the ground floor,
while upstairs has the young man's room plus
a room for his personal servant for contrast.
My dependency is furnished as it might have been in the 1830s.



As you can see, the son of the house has every luxury.
On the left side of his room is a sleigh bed hand painted with swans and covered in the necessary mosquito netting. Next to the bed is a handpainted commode holding a dish of fruit.
On the right side is his writing desk and chair,
and a handpainted highboy for his clothing.
A fancy fireplace is on the back wall. Note the elaborate moldings!



In contrast, the servants bedroom is quite plain.
The furniture is good quality, but would have been castoffs the family no longer wanted. There is no fireplace. The hip bath would have been carried next door to the son's room when needed.

The kitchen contains an unusual stove, modeled after a life sized one in the Hermann-Grima house in New Orleans.

The cooking fireplace is by Braxton Payne, the servant woman by Maureen Thomas. I made the stove and table and chairs.


The hutch was made by Barbara Godfrey.

The larder was where food was kept until needed. The small pieces of pottery in the back are by Elizabeth Chambers. the larger pieces by Vernon Pottery.


The little girl is by Maureen Thomas and she is churning a Vernon Pottery churn while sitting on a handpainted bench by In A Miniature Manor.
This building was made in another GSMADE class taught by Keith Long.