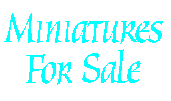 In A Miniature Manor has offered collector quality miniature furniture since 1991.
At the present time we are not traveling to miniature shows,
so we are offering the few pieces we have left at greatly reduced prices.


Each piece of furniture offered is handcrafted.
All are one-of-a-kind and will not be repeated once sold.
(Please note that none of this furniture is recommended for children.)
Please select the scale you would like to view: