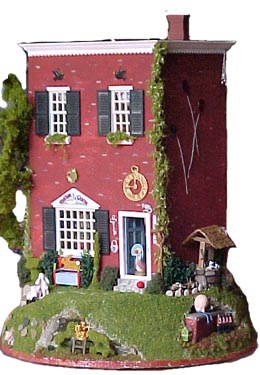 Mother Goose Toys
This whimsical project was made in a Pam Junk class in Kansas City,
at a NAME National Convention.
Pam did a lot of reasearch on nursery rhymes, and this project houses symbols for over 70 of them!
On the front you can see Humpty Dumpty and a mouse about to run up a clock, among several rhymes.
Mother Goose herself (by Lori Ann Potts) is in the doorway to welcome you.

Up in the tree is a rocking cradle. Outside the tiny door are the three blind mice. What others can you spot?

The main feature of the back is a little crooked house.

Inside, the downstairs is a toy shop.

Upstairs is a sitting are and bedroom,
all featuring more nursery rhymes.