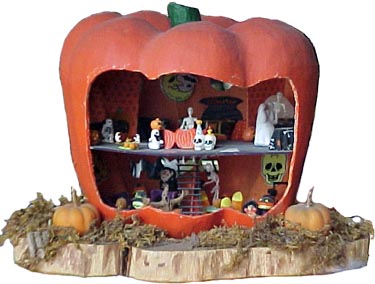 Halloween House
This is my favorite quarter scale project of all time -
it's certainly the most fun!
I found a life-size papier mache pumpkin, cut it open and inserted
a lower and upper floor plus a staircase.
The back side of the house is cut as a jack o'lantern,
with the holes becoming windows for the house.
Then the fun began!

Downstairs on the left is the living room, with Dracula lurking in the back of the room, while a spooky tree tried to warn off visitors. On the right is the dining room, with candy corn furniture I made from Fimo, Mme. Witch preparing candy for the trick or treaters who are expected soon and behind it is the kitchen where a skeleton is washing the dinner dishes.

Another skeleton is coming down the stairs.

Upstairs are several bedrooms. Each bed is customized for its occupant.
Mme. witch's bed had a cauldron headboard.
One of the ghosts has a tombstone.
And of course Dracula has his coffin!
One of the ghosts is practicing his "boos" in front of the mirror,
while other little spooks frolic about.
While I made most of the furniture, the figures came from craft stores as well as miniature sources.
It all sits on a landscaped tree slice covered with moss
and decorated with pumpkins and more spooks.