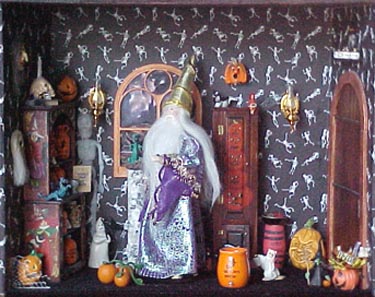 The Wizard's Chamber
Halloween being my favorite holiday, when North Carolina's State Day theme was "Picture A Holiday" my choice was obvious!
I used the well known "Skeletons In the Closet" wallpaper,
adding a false window with an El Greco painting
and a false door.
I made and handpainted the two cabinets.

The various Halloween items came from many sources..
The Wizard was made by Rachel Bonney.
NO HARRY POTTER INFLUENCE!